Military Care Packages for Christmas
Free Auto Insurance Comparison
Secured with SHA-256 Encryption
UPDATED: Nov 23, 2020
It's all about veterans. We want to help you make the right coverage choices.
Advertiser Disclosure: We strive to help veterans make confident auto insurance decisions. Comparison shopping should be easy. We are not affiliated with one auto insurance company and cannot guarantee quotes from any single company. Our partnerships don't influence our content. Our opinions are our own. To compare quotes from many different companies please enter your ZIP code on this page to use the free quote tool. The more quotes you compare, the more chances to save.
Editorial Guidelines: We are a free online resource for veterans interested in learning more about auto insurance. Our goal is to be an objective, third-party resource for everything auto insurance-related. We update our site regularly, and all content is reviewed by auto insurance experts.
So you're thinking about sending out a military care package this Christmas, and what a great idea to do. Whether you have a loved one serving the country or would like to be part of a package giving organization, this is the perfect time of year to get involved. The trick is figuring out what to send, what not to send and how to send it in the first place.
Good Gift Ideas
The first thing to think about when it comes to wrapping up a holiday care package for a member of the military is what you could include. So here are a few ideas:
Photos & Letters – Nothing can brighten up a service man or woman's day like getting personal letters and photos from home. This can be a particularly important morale booster during the holiday season. When it comes to photos, don't just think about a posed holiday shot. Also, think about any events recently or during the year your soldier may have missed. Seeing candid shots of family members at parties, graduation or even day-to-day events helps make it personal. Of course when it comes to letters, make it personal with handwritten notes instead of computer printed letters.
Homemade treats – Your daughter or brother may have fond memories of homemade foods, holiday or otherwise, that connect her or him to memories of home. This is the perfect time to bake up some memories. Not to mention the personal touch of homemade makes any gift more meaningful. Even if you are shipping to the troops who aren't your family, your recipe may become their new favorite.
Powered Mix for Water – It may not seem like a big deal, but if you'd spent the last year drinking nothing but plain water you would probably appreciate the change of pace. There are plenty of brands and flavors available. This makes a great low cost and easy to ship gift that can really go a long way.
Magazines – Magazines are a great way to give troops a quick read and something to share or pass around. Consider gifting a variety so different military members can enjoy the latest news in Hollywood gossip or trends in automobiles.
Things to Leave Behind
You may be well meaning, but in order to avoid any problems, here are some things that would be best left out of those holiday care packages:
Anything breakable – The packages you send have many miles to travel before reaching their destination. En route any number of things can happen. No matter how well you wrap items, it is best to leave the fragile items out of the package if possible.
Careful of Certain Foods – Thinking of sending those homemade goodies? The one thing to take into consideration is the ingredients. Try to avoid making anything that may melt if exposed to heat on the planes for too long. Also anything with a really short shelf life may end up spoiling before arrival. When in doubt send some hard candy or granola bars that may hold up to extreme temperatures and long travel times a little better.
Nothing That Could be Too Personal – Keep in mind that you never know where the military member may be opening his or her package, or who may be around. For one thing, even if you think a life sized painting of your family dog dressed like a clown is cute, this could end up being an unlimited resource of torment from fellow military personnel for a long time to come. Keep it small, keep it free from embarrassing and certainly make sure it is appropriate subject matter.
Avoid Scents or "Fru Fru" – Spraying the envelope with a favorite perfume or filling the envelope with glitter is not a great idea. In cramped living quarters that perfume is going to quickly cause headaches to anyone within smelling range. Glitter may add to holiday cheer at home, but spilling it up all over the barracks doesn't have quite the same charm.
What Else to Know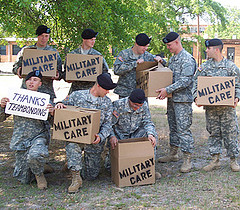 If you haven't a specific person to send a holiday care package to, you can find many organizations to go through for this. Some may even take care of shipping the package for you. If you are sending the package yourself and have never gone through the process before, there are a few things you should know, for example:
There are custom forms you will need to fill out in order to ship your care package. If you have only ever sent letter before, this may be new to you. If need be you can ask a postal service worker or even research online to learn the correct format for filling out these forms.
Because you will have to fill out a customs form, make sure you keep a list of whatever you do include in the box. Trying to remember it as you fill out the form may not work. This includes the number of items, so if you are including seven magazines, jot that down not just magazines without a number.
Try to keep it small. It can be tempting to go overboard when it comes to sending out a Christmas care package for the troops. The problem is that the bigger the box the more difficult it may be to get to the desired recipient. Not only that but it can end up being costly to ship it.
Another thing to be aware of is that the earlier you send out the package the better. You may think sending it out priority shipping or overnighting it will make up for lost time. Unfortunately this shipping option only gets the package to the port quickly and has no impact on how quickly it will get to the military mail or delivered.
Brighten up the holidays this year for those who have made the sacrifice to serve their country by sending a care package. It's a small token of appreciation that can make a huge difference in a soldier's life.
Below are some great links to start:
USA.gov
http://www.give2thetroops.org/items.htm
http://www.armywifenetwork.com/?page_id=40